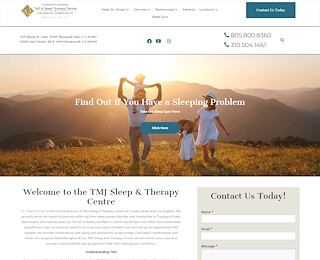 One of the most painful headaches is TMJ headaches because they affect alt f different muscles, tissue, and facial features. Headaches and migraines caused by jaw complications could happen even when you try to close your mouth, which means you are always vulnerable to a headache no matter time or activity of the day. The following is a short explanation of what you need to understand about TMJ migraines.
What is different about TMJ or muscle tension headaches?
Migraines and excruciating headaches due to TMJ issues result from tension on the jaw's muscles and joints. The pain feels a lot more tense than usual because it affects more nerves and muscles on the skull. A trigger on one part of the trigeminal nerve radiates pain on all other affected areas, hence the migraine and headache.
What triggers TMJ problems?
The most causes of TMJ-related issues are teeth and jaw health. You may develop TMJ migraines after trauma to the head or your jaw or medical conditions like osteoarthritis and Ehlers-Dahlos syndrome, which also affect your jaw.
How can you ascertain the headaches are due to TMJ issues?
Spread out pain
One common clue about TMJ is that you will feel the pain in more than one head area, such as the jaws and face. The pain may be so intense that you cannot chew, open your mouth or laugh without triggering a headache. Recent trauma to the jaw could also trigger migraines, which means growing adversity on the nerves and muscles connected to the head.
Clenching teeth
Clenching teeth could cause TMJ headaches, but it is also an effect. Bruxism or teeth clenching can happen at any time of the day or night, which means that your jaws and behaving in a manner they would not if they were incorrect alignment.
Restricted movement
TMJ is causing problems if you cannot move your jaw around or hear clicking sounds when you do. Jaw sounds happen when the joint is out of place, and you need extra effort and energy to slip everything back into its location. You can test this by biting a pencil between your teeth; lessened of increased pain is a sure sign that you are experiencing TMJ headaches.
Additional symptoms
Headaches and migraines have more than a few signs and symptoms, which will all look different in different people. Some related signs of TMJ complications include:
Ear pain
Tooth damage or pain
Pain on the back, shoulders, and neck
Numbed fingers
Feeling dizzy when you exercise your jaw too much
Conventional care is ineffective for TMJ headache relief
The process of elimination is still a very viable way of establishing that you have TMJ headaches. As explained, this particular headache is more severe than usual hence it is impossible to find relief from popping one or ten pain killers.
Do you want to learn more about TMJ headaches and our available treatment for severe headaches? Contact us at 805-496-5700 / 310-401-0813 to book a personalized consultation on treating migraine or headaches in Calabasas.
Any time you have a headache, the thought that your jaw might be the cause might never enter your mind. However, many people have headaches without realizing that the temporomandibular joint (TMJ) could be the issue. If you are dealing with unexplained or frequent headaches, then you might want to see a specialist and learn the best treatment for a headache in Calabasas.Understanding TMJThe TMJ is essentially the hinge that connects your jaw to the …